1st Step Bikes
Here at 1st Step Bikes we provide an effective environment for change! The simple activity of refurbishing donated bikes and servicing bikes provides our volunteers with a route to secure latent skills lost through years of addiction and/or struggling with poor mental health.
1st Step Bikes builds bikes & builds confidence!
We host a tested referral system via our many partners (hyperlink to 'partners') and provide a self-referral form (hyperlink form) for those simply looking to volunteer, befriending others while learning to repair bikes.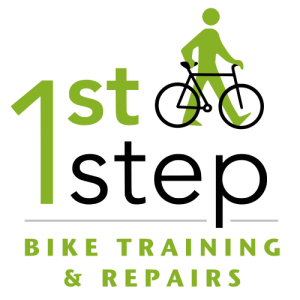 After an introductory visit to one of our two workshops we prepare you for our OUTREACH Course which lasts four/five sessions. Normally one halfday spread over 4/5 weeks. Here we will train you in basic bike mechanics, working on a bike which, on completion of the course, it's yours to keep!
Once you have completed the course you can volunteer with us at the workshops and start helping refurbishing bikes with the Team!
There are opportunities to add to your bike mechanics skills by undertaking Velotech Bike Technicians bronze or silver certification.
We sell our refurbished bikes at special events across West Lothian and Falkirk. This is another volunteering opportunity and also adds to the team building and personal development.
As you may have seen, we are part of a bigger team which includes volunteering with our Food Pantries, Community Garden, or Cafe teams. Our Community Cafe is pivotal in simply sitting and enjoying some excellent food and chatting with people.
Are you interested in hearing more? Please complete the form below and we will endeavour to get back to you soon! Or call us on 07597 392931.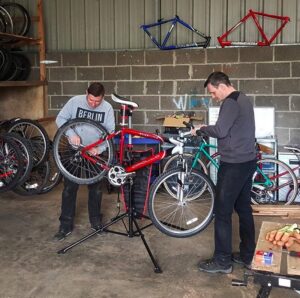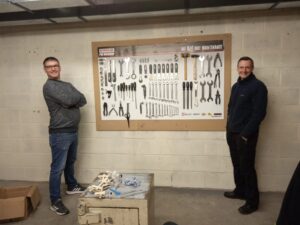 Come visit us!
Linlithgow Opening hours:
Inside Linlithgow Recycling Centre
Summer – Mon/Tues/Thu/Fri 10-4pm
Winter – see our Falkirk location below
Falkirk Opening hours:
Howgate Centre, Unit 8 (inside Central Scotland Regional Equality Council)
Summer – Wed 10-4pm
Winter – Mon/Wed/Fri 10-4pm